Starch flash dryer application:
The starch flash dryer is used for drying the wet potato starch, cassava starch, sweet potato starch, wheat starch and other starch and modified starch after the dehydration. The starch flash dryer also can be used to continuously dry other granular thermo-sensitive materials.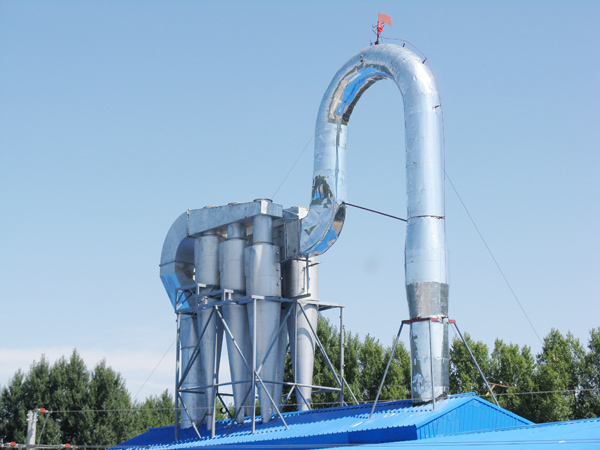 Starch flash dryer
Principle of starch flash dryer:
Starch flash dryer adopts negative pressure drying principle. The high-speed hot air flow can disperse the wet material, stir and mix simultaneously in the external dispersion process, and then the material and the hot gas flow flow in parallel. This type of starch drying machine is suitable for drying filter cakes, but belong to the raw material having surface moisture. The moisture content of material should be less than 40%. If the treated amount is too large or the finished product is required to be dried below 15%, secondary drying operation can be used. When the moisture content of the material exceeds 40%, but less than 60%, the feeding is difficult. A mixer should be adopted to reduce the feed water of raw material by mixing it with dry material. At this time, the total output of the starch flash dryer will be decrease greatly which is economically uneconomical. Therefore, the user should first reduce the feed moisture by mechanical means (centrifugal dewatering or press) to ensure the smooth operation of the drying operation.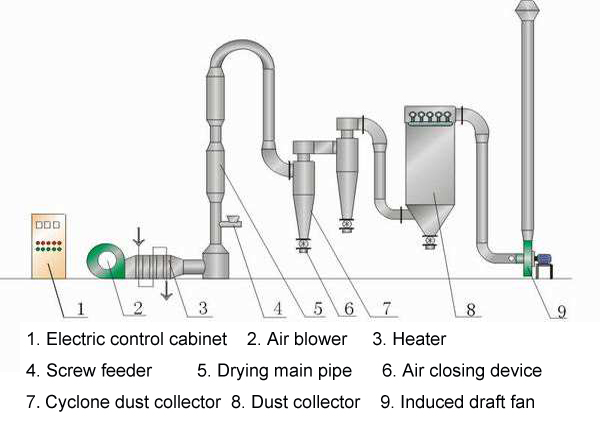 Starch flash dryer structure
Features of starch flash dryer:
(1)Short time of materials retention, high heat-exchange rate, realization of instantly drying;
(2) The special cyclone recovery device to ensure the minimum loss of dry starch;
(3) The special designed cooling system of starch flash dryer makes the starch not easy agglomerate and the residual moisture can be precisely controlled;
(4) The new pass wind screw replaces the traditional shut wind screw, the effect is well and the failure rate is low;
(5) Without massive moving parts, low cost in operation and maintenance.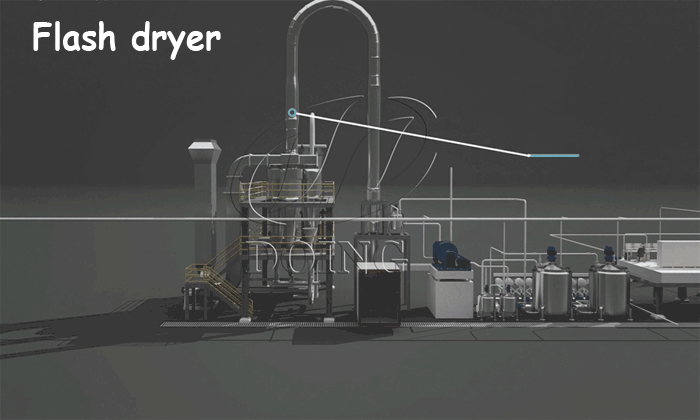 Starch flash dryer
Main technical parameters of starch flash dryer:
| | | | | |
| --- | --- | --- | --- | --- |
| Model | Power(kw) | Evaporation water(kg/h) | Labor | Starch capacity t/d (Moisture≤40%) |
| QZWG-5 | 14 | ≥100 | 2 | 5t |
| QZWG-10 | 23 | ≥200 | 3 | 10t |
| QZWG-20 | 43 | ≥400 | 3 | 20t |
| QZWG-30 | 50 | ≥600 | 4 | 30t |
| QZWG-50 | 75 | ≥1000 | 4 | 50t |
| QZWG-100 | 135 | ≥2000 | 5 | 100t |
Customized capacity of air flow dryer machine is available.
Application of starch flash dryer:
1. Cassava flour processing machine
2. Sweet potato starch production line
3. Potato starch production line
4. Cassava starch production line
5. Corn starch production line
6. Wheat starch production line
7. Rice starch production line