Four specific requirements for site selection of sweet potato starch processing plants
Sweet potato tubers are widely planted in the world. In addition to direct consumption, sweet potato starch is the most profitable idea to process sweet potato tubers. If you want to set up a sweet potato starch processing plant, here are four pieces of advice provided about plant site selection.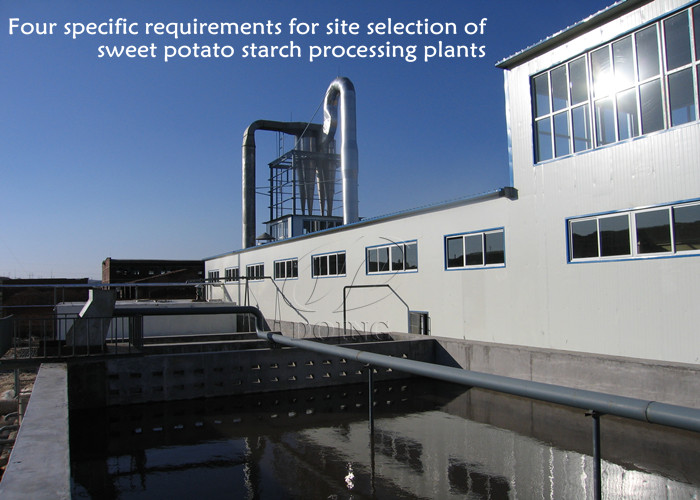 Sweet potato strach processing plant
1. Geographic position
In the sweet potato starch processing plant site, you should consider the site position where near materials to keep materials fresh degree. If you want to use fresh sweet potato tubers to process starch, the site should near materials and near highways. Then in the transport process, there is lower cost.
2. Terrain
Normally sweet potato starch processing plant will be set up in a flat and wide place. On the one hand, transport is convenient; on the other hand, it is easy to release wastewater on flat land. One sweet potato starch processing plant should be at least around 5000-6000 square meters. So people also should choose suitable terrain and transportation to transport starch.
3. Water resource
In sweet potato starch processing, there needs enough water. Normally speaking, 1ton sweet potato tubers need 2tons of water per hour, the cleaning water can recycle use. Thus water resource is very important around the plant location site.
4. Electricity
Around the starch factory location, electricity is a necessary condition. There is a better place where can near the electricity supply station or has a generator can supply electricity.
Moreover, the place has good geological conditions and the soil has sufficient carrying capacity also should be considered.
Henan Jinrui Food Company had done many starch projects in China and World with over 10 years of project experience. We can provide various capacity plants including sweet potato and potato starch machines, cassava starch processing machines, etc.
If you have an idea to venture into starch processing, you can send us a message freely, our project manager will contact you soon.
contact us
Do you want to buy machine?
Yes, I want to buy machine
No, I Just learning
What is your raw material?
Cassava
Potato
Sweet potato
Others
2. What is the final product you want to produce?
Garri
Cassava flour
Cassava starch
Cassava chips
Attiekie
Bammy
Others
3.What is your capacity plan?
Small scale garri machine
1ton per day
2tons per day
3tons per day
10tons per day
20tons per day
Others
3.What is your capacity plan?
Small scale
5tons per day
10tons per day
20tons per day
50tons per day
100tons per day
Others
3.What is your capacity plan?
Small scale
5tons per day
10tons per day
20tons per day
50tons per day
100tons per day
200tons per day
300tons per day
Others
3.What is your capacity plan?
Small scale
Middle type
Large scale
What is your capacity plan?
Small scale
5tons per day
10tons per day
20tons per day
50tons per day
100tons per day
200tons per day
300tons per day
Others