Home
>
Product
>
Potato starch processing machine
>
Machine used for preparation of starch from potato
In developed countries, the potato industry is mature enough, the downward extension of the industry chain is more complete, the proportion of consumption is relatively low, which means the proportion of processing is high. While in developing states, potato as the raw material is usually applied to eat and feed. The potato processing industry chain is long, so the machine used for preparation of starch from potato is advanced.
Potato can be processed into starch and flour, and the potato starch can be utilized in frozen food, puffed food, condiment and other food industries. The content of starch in potato is 9% to 20%. It is really an ideal raw material for starch making, to guarantee high starch yield, the machine used for preparation of starch from potato is important, and it's proud to tell you that our starch extraction technology can make the starch yield more than 94%.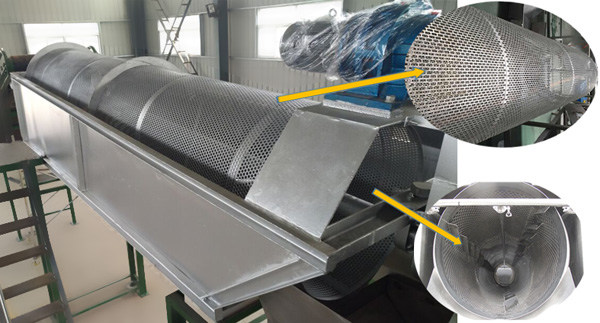 Potato cleaning machine
The machine used for preparation of starch from potato is independently developed by our company, and the advanced preparation of starch from potato process includes cleaning and washing section, crushing section, screening section, concentrating section and dewatering section, drying section.
Section one: Cleaning and washing
Dry sieve and rotary drum washer can effectively remove small sand and stone, the peel of potato will be handled at the same time. The section also can be carried out manually.
Section two: Crushing section
The rasper be used for ultra fine crushing of potato tissue cells, which is made of stainless steel. The used for preparation of starch from the potato has the characteristics of large drum diameter and effectively destroying the cell tissue.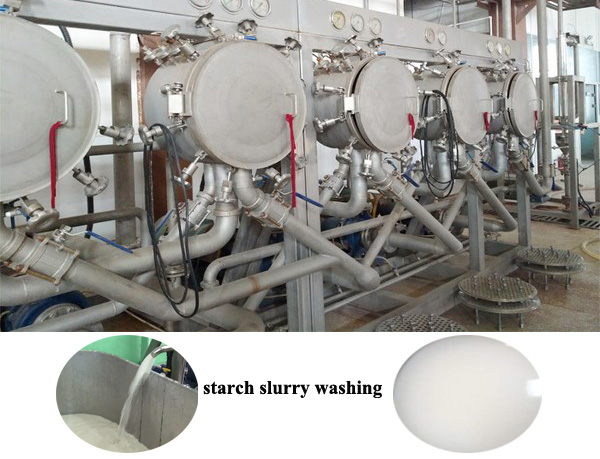 Section three: Screening section
Centrifuge sieve is employed to separate pulp for preparation of starch from potato. Its structure features include: the unique internal and external cleaning nozzle structure can effectively preventing the sieve from blocking and ensuring the long-term continuous operation of the equipment; the special sealing structure of the transmission box ensures the ideal seal between the sieve and the discharging room. The SKF bearing is sealed in the machine used for preparation of starch from potatoes. Besides, the double face seal bearing does not require extra lubrication in the whole production process.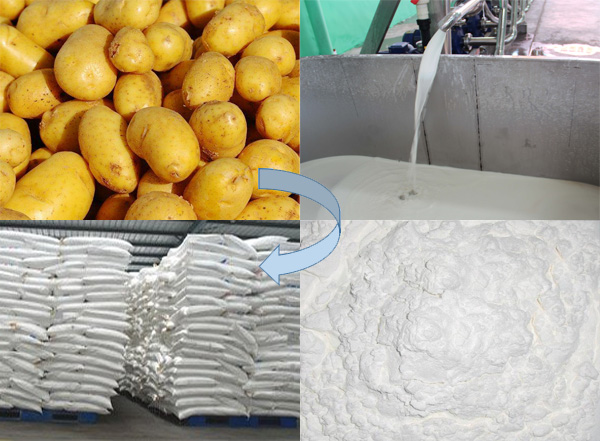 Potato starch production process
Section four: Concentrating section
The Hydrocyclone unit is utilized for continuous separation, concentration and washing of potato starch. The shell and tube sheet of the whole swirling station is made of 304 stainless steel. With less manual operation and stable working pressure, the machine used for preparation of starch from potato is high efficiency and low water consumption. In addition, PLC centralized control can be achieved.
The machine gets the advantages of light vibration, low noise, continuous separation, stability and low power consumption. It's a good choice for preparation of starch from potato as your select.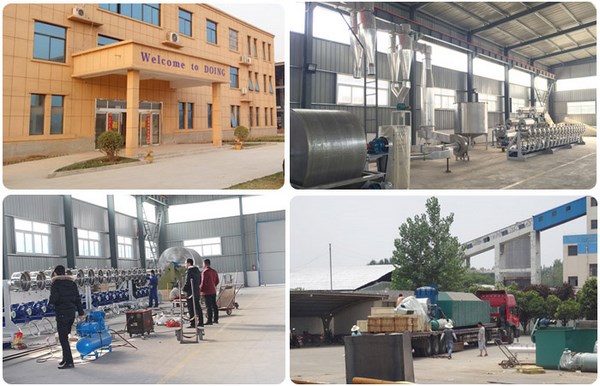 Welcome to DOING
Section five: Dewatering section
The vacuum dewater is suitable for dehydration of starch after potato washing. The machine is a stainless steel and the drum has no tube structure, with stainless steel filter cloth and a unique external high pressure water spray cleaning device, which is fast and convenient and difficult to clog. The operation is convenient and the operation is smooth for preparation of starch from potato.
Section six:Drying section
The purpose of the flash dryer is to dry the wet starch after the potato starch production line is dehydrated. The machine can achieve instant drying effect, raw material retention time is brief. Special cyclone recovery device ensures minimum starch loss after drying. The machine used for preparation of starch from potato ensures the good quality of potato starch product.
Iterm
Name and model
Unit
Quantity
Power
First
Clean machine
1
Water power convey groove
2
Cleaning machine Ⅰ-dry sieve
Set
1
3
3
Cleaning machine Ⅱ-drum washer
Set
1
1.5
4
Potato cleaning convey machine
Set
1
3
Second
Extraction and refining section
1
Extrusion-milling machine(rasper )
Set
1
30
2
Centrifuge sieve
Set
2
3
3
Fine fiber sieve
Set
1
1
4
Desanding machine
Set
1
3
5
Hydrocyclone
Group
13
66.5
6
Automatic vacuum dryer
Set
1
14
7
Conveyor
Set
1
3
8
Interim tank
Third
Dry section
1
Air dryer
Set
1
28
2
Radiator
Set
1
3
Starch screen
Set
1
4
Distribution Cabinet
Set
1
5
A ton of boiler
Set
1
Fourth
Aid machine
1
Power line
2
Packing machine
Set
1
3
Pipelined and pump/motor
4
Non-standard parts and other materials
Include the main machines used for preparation of starch from potato, just as a reference, the detail production plan and machine adopted of potato starch, you can discuss with our engineer.